—— It seems more and more people listen to internet radio these days
 Higuchi: JJazz.Net is an internet radio station that started streaming in 2000, but most people didn't have enough bandwidth to support streaming back then and we obviously started a little early. However, in these past 5 or 6 years, the foundation of internet has evolved quite a bit and thus internet radio has become very popular. Our focus has always been on high quality audio, but we couldn't go anything above 16Bit 44.1kHz when the only available source was the CD.
 By trying to achieve better audio quality than CD, we naturally came to the idea of live recordings. That's how we started doing our very own 24Bit 96kHz recordings. We knew we wouldn't be able to stream in 24Bit 96kHz, but we thought something that is compressed from high quality audio must also sound pretty good. Our other aim was to introduce tracks that are recorded onto a CD but in a live environment, because we feel that sometimes, live performances can say so much more than a studio recording.
 DAW was necessary to complete the high quality live recording workflow. Luckily, CPU has caught up quite a bit recently, so we took an audio interface, laptop, and few microphones to the venue, and started recording in 24Bit 96kHz. We've been doing this for approximately 5 years now. The balance between good internet on the listener's end and great mobile recording gear on the engineering end lead to a great sounding live stream over the internet. We have our staff or other engineers working on the recordings.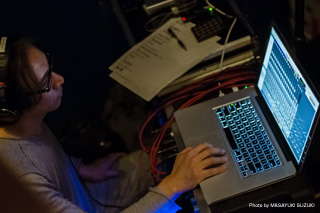 —— The reason why you offered the job to Mr. Yamada
 Higuchi: We asked Mr.Yamada to do the recording after listening to a live recording of the artist "Kemono," where he was the recording and mixing engineer. It was an excellent recording and we were sure he'd be able to understand and achieve what we are aiming for.
 As introduced in PreSonus Story, Mr.Yamada does live recording as a recording style and his workflow is solid. Our station must be updated every month so we cannot spend much time on debating about workflow. That's another key reason to offering him the job.
 Even though we've been doing this for 5 years, there are unexpected accidents. We've had hard drive failure after being hit by loud noise or not being able to find a recording space in the venue. That's why someone with experience is needed for this job. We also thought Mr. Yamada's gear was more than perfect.

—— How was the JiLL-Decoy recording done?
 Higuchi: The recording wasn't done in 96kHz, but Mr. Yamada uses outboards as hardware inserts during mixing, and the finalized version was bounced in 96kHz. The main set-up was a stereo pair, and we also mic'ed the piano and the drums with few separate microphones. We also mic'ed the hall for ambience.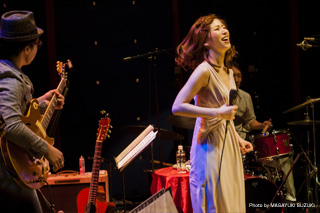 Mr. Yamada's recording was set up in a simple and compact way. It was almost exactly how we usually record the performances, so it was a great assurance for us as well. Something really memorable during the recording was that PreSonus' gear has jacks on the front panel. I thought that was incredible since the recording booth is usually pretty dark.


—— How was the recording mixed after the recording?
 Higuchi: JiLL-Decoy and I went into Mr. Yamada's studio to listen to the mix. There were no edits and JiLL-Decoy was very satisfied with the outcome. Mr. Yamada had a separate stereo mix for JiLL-Decoy's performance check. But JiLL-Decoy was a bit worried that the stereo mix would be used for the final mix. They were going to request to overdub some tracks, but they were happy that wasn't necessary after listening to the outcome.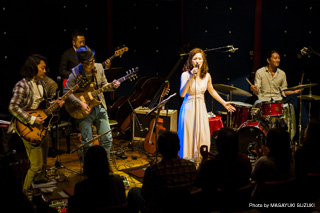 Mr. Yamada's creativity and style made everything possible. Before starting the mix, Mr. Yamada asked me if we'd like the recording to sound more live or more studio. We usually focus more on the live sound, but we also believe that shouldn't be the most important thing, as balance and the composition should be taken into count as well. We didn't want to sound ambiguous but that's why we answered half and half. We wanted a good balance between sitting in the venue and having the performers right in front of you.
 I know live performance and studio recorded tracks sound different. The end product of the mix highly depends on what the artists want as well. There are artists who trust their sound man so much that they focus solely on the live performance and use the stereo mics in the venue for the main recording. That's why the way performances are recorded needs to be flexible depending on what the artists want.
—— Looking at the workflow, it seems you can publish the streams on the day of the gig.
 Higuchi: We uploaded the files in a week, so it was pretty fast this time. Scheduling between the musicians, engineers and us is tough, but with our system and workflow, I think it is possible to stream the recordings right away. However, we add mc's and jingles to the live recordings and stream it as program, so I don't think it's a realistic option at the moment.

—— Some people think live recordings don't sound great.
 Higuchi: I think there are stereotypes to bonus tracks on an album or sound for live dvds. But most JJazz.Net listeners are happy with our live recordings. Live performances are done mainly in the center of Tokyo, so by streaming these recordings, people who cannot come to Tokyo easily can also listen and experience the live atmosphere. And it's in high definition audio, so we hope we are offering an even nicer experience.
 We have high hopes for pursuing high quality audio. I think we don't loose anything from having great sounding audio. Of course, lo-fi is necessary in some music, but I still think you can express lo-fi in high quality sound – paradoxically. I believe high quality has a lot to do with carrying the atmosphere of the live venue. It's something I'd like to continue pursuing to make listening to music an even more enjoyable experience.
—— Is it true it is now compatible with the iPhone and the iPad?
 Higuchi: After updating the player in April, listeners can enjoy our streams now on smartphones and tablets. We have confirmed that there are no problems streaming over the 3G network either. File compression is AAC and HTML 5 is used for any device that is compatible with it and flash for devices that are not. We compress a huge source of data to AAC, so I don't mean to brag, but the quality is simply great. Even though it also depends on the speed of the device's internet connection, but if you compare our audio with other internet radios, the difference in quality is pretty obvious.