[日本語版]

In live concerts, there are improvisational aspects that cannot be captured in studio recordings. We had a chance to speak with Nobumasa Yamada, known for his works with LOVE PSYCHEDELICO, about his passion in recording these live concerts and his techniques using PreSonus mobile recording gear. Mr. Yamada shared how he built his system, the actual set-up and some techniques, based on the recording of Kemono held in Ogikubo Velvet Sun.

—— I heard you do a lot of live works these days. Have you always recorded live in parallel with studio recordings ?
 My prominent work was with major labels, so I used to do studio recordings much more. But when the artists wanted to make a music video, I would sit inside a van to help with the recording. Kazuo Zaitsu's Tulip is still fresh in my mind when I think of live recordings. I recorded a live concert in 2000 held in Fuchu Mori Theatre and Tokyo International Forum. With an artist as famous as he is, they usually have Tamco or SCI vans to record the concert, but I decided to bring my own gear.
 Pro Tools has just started to become a major platform for recording back then, so the director and I discussed and decided that it would be cool if we brought Pro Tools to the venue. Nowadays, using Pro Tools in live has become pretty standard, but not many people were doing this back then. I remember using Pro Tools|24 Mix and connecting 5 or so of Ultra Wide SCSI hard drives. Computers weren't all that fast either, so we limited the recording to about 8 or so tracks per system and having 40 tracks all together. The recording signals were split from the mics and I had brought my own and few rentals for mic pres. It was a huge set-up, I must say. This recording was mixed in my private studio called amp'box Recording Studio and was released as a live album "LIVE ACT TULIP 2001."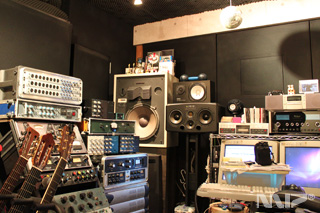 —— Why did you start to focus more on live recordings?
 I started off as a drummer, and loved jazz back when I was still a student. However, ever since my career as an engineer took off, my main field of work has become limited to pop and rock music. But I had an opportunity to get back into jazz about 3 years ago, when I joined a session in a jazz bar. There are many live jazz venues in Tokyo and Yokohama where anyone is welcome to join in.
 After joining in on these sessions, I've become friends with many jazz musicians and realized that there are so many wonderful musicians in Japan! Of course some are professional, but even amateur musicians are simply amazing. That's when I started to think if recording these sessions would be possible.


 Of course there is an option of 2 channel stereo mix using field recorders, but it wouldn't sound as great as CDs and records that I grew up with. I wanted to record in multi-track and in a way that can last.
 Don't you think most legendary jazz albums are simple recordings of a performance? In other words, it's capturing the art of time – where you aren't looking back, but experiencing what it was on that instance. They are interesting and unique because the audience and the artists' reactions are once in a life time performance.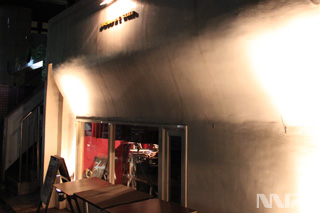 Ogikubo Velvet Sun's official website: www.velvetsun.jp
 And in places like Tokyo and Yokohama, there are wonderful sessions every night. As a professional engineer, I thought I can't just let this slip away – I need to record them. This was also a time I was thinking I wanted to be involved in music not only as my job, but as a life long project.
 Of course I would continue to be involved in pop music as a recording engineer, but I would like to think of this as a separate thing – to be involved in one-time performances in jazz, Latin music and blues, and to pursue the art in music. That is why I decided to record live concerts.
—— Could you tell us the set-up you use for live recordings ?
 I use an Apple MacBook Pro 15' with quad core CPU Core i7 with Avid Pro Tools 9 installed. For the audio interface, I have a Presonus FireStudio, which is a 1U rack with 26 channels of inputs and outputs. FireStudio also has 2 ADAT digital I/Os, so 2 8-channel DigiMax FS microphone preamps are connected to make it a 24-channel analog audio interface. I also use mics, other preamps and outboards as necessary.